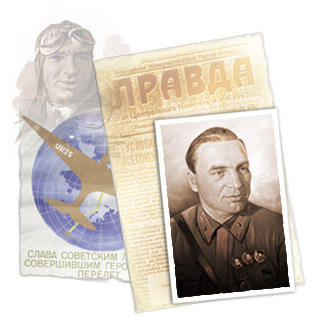 A short historic note on the flight of V. P. Chkalov and his crew to the isle of Udd
After an unsuccessful effort of a non-stop flight over the North Pole to the United States by Hero of the Soviet Union, S.A.Levanevskiy in 1935, one of the crew members, second pilot G.F.Baydukov, invited V.P.Chkalov to consider the flight. In May of 1935, a 31-year old Chkalov was distinguished by Stalin and was awarded an order of Lenin. Baydukov knew that only Chkalov with his determined character, supported by Stalin, could reanimate the idea of this flight. Chkalov got carried away by the idea. On July 14th, 1936 following the order of the Council of Labour and Defense, the itinerary of the flight was approved.
The take-off of the plane took place on July 20th, 1936 at 5.45 a.m. The crew was represented by: commander, V.P. Chkalov; 2-nd pilot, G.F.Baydukov and air navigator, A.V.Belyakov. The itinerary was traced across Kharlovka (Kola peninsula),isle of Victoria (Barents Sea), Tikhaya habour (Franz Josef Land), Severnaya Zamlya, Tiksi habour and Petropavlovsk-Kamchatskiy. Close to Sakhalin, the weather conditions worsened, a necessity to land arose. The crew realized: in such weather conditions the plane would hit the inshore bald mountains, rather than follow the estuary of the Amur river. In the conditions of dense fog and evening dusk, Chkalov succeeded in performing something extraordinary: he masterfully landed a heavy ANT-25В on the inshore line of Udd island, in the Bay of Happiness, close to the city Komsomolsk-on-Amur. It was the evening of July 22nd, 1936. 56 hours 20 minutes of flight and 9374 km covered were left behind.
On July 24th, 1936 by the resolution of VCIK of the USSR the three crew members were awarded the title of Hero of the Soviet Union and the order of Lenin. Soon after the flight, Udd island was renamed the Chkalov island.