The Project "Still higher, and higher, and higher" is heading to the North Pole

The ceremony was inaugurated by the Director General, Chairman of the Board of Directors MVK (International Exhibition Company) Alexey Yurievich Shaburov. He gave his thanks to all the participants of the projects who helped to bring this project to life. He especially thanked the deputies of the State Duma for their warm and hearty welcome to the staff of MVK holding who were working daily on the stand placed in the hall. Alexey Shaburov remarked that the favourable feedback left in the Register of MVK holding was plentiful.
The Chairman of the Directors' Board, Executive Vice-President of MVK International Exhibition Company has also announced the future plans of the company. Right now the possibility of a flight Moscow-North Pole- USA is being considered. Alexey Shaburov expressed his certainty that this large-scale project will unite "the youth, statesmen, government and the whole country".
The deputy Chairman of the Administration of the State Duma of the Russian Federation Oleg Vasilievich Utkin was the next to say his word. On behalf of the deputies of the State Duma, he expressed his best wishes to MVK holding, having remarked on "the unquestionable professionalism of its organizers" and the fact that Russian business has become more patriotic.
The President of MVK holding, Andrey Vitalievich Lapshin, was to continue the ceremony. He gave his sincere thanks to the audience, expressing his assurance that MVK holding will carry out a number of unprecedented projects in the future.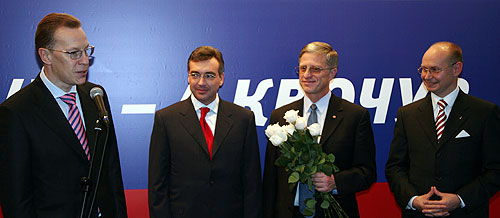 A plenipotentiary representative of the RF government in the State Duma of the Federal Assembly of the Russian Federation, Andrey Viktorovich Loginov, was the next one to say his piece. Once again he thanked the organizers of the exposition having named the latter "one of the most successful expositions of the year that centers our attention on the history of Russia". He remarked that the meaning and purpose of the exposition correspond to those of the representatives of all political groups.
The closing ceremony was accompanied by the sound of the respected Russian national anthem..