Congratulations from Senturin Yury Petrovich
Ladies and gentlemen,
Please accept my sincere congratulations on the success of the great project which brings together two interrelated events: the first exposition in the stratosphere held on board the refueling Il-78 tanker and a non-stop flight by Anatoliy Kvochur, Hero of Russia, a distinguished test pilot of the USSR following the itinerary Moscow- isle of Chkalov (Far East) — Moscow on board a Su-30 plane.
The role of MVK, the International Exhibition Company in this patriotic campaign is hard to exaggerate. Your decision to take responsibility for the expedition support is evidence of good traditions of literature and charity in Russia.
The exposition in the stratosphere and the non-stop flight attracted the attention of the general public to the heroic spirit of the past and proved that there is a place for similar feats in today's life too. Paying tribute to the feat of the legendary pilot Valery Chkalov, your project is a bright example of business servicing the interests of society.
I sincerely wish you good health, prosperity, fruitful work and success!
Deputy of the State Duma of the Russian Federation
of the Nizhny Novgorod region;
Deputy Chairman of the State Duma Committee on Energy,
Transport and Communications;
Coordinator of the All-Russia Political Party United Russia
on patriotic education of youth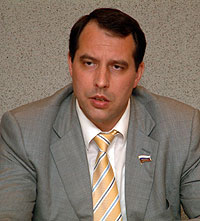 Yu.P. Senturin